We By Vinyl Records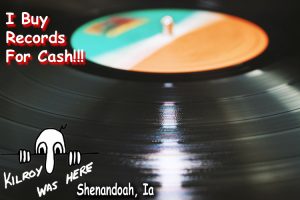 We purchase Records, DVD's Movie, Pokemon, and other collectibles daily at our Southwest Iowa location at Shenandoah. We love and welcome to walk in's. Bring Your collection in to us and You leave with Cash!!!  We pay more than any shop in Southwest Ia. Feel free to ask any questions or contact us at any time!
We By DVD's Movies
Even though We have over 3,000 videos on hand, that is never enough. Were always looking for more. If you need extra cash for Your collection Just bring them in.
We Buy All Formats Of Videos and Music
Find your favorite titles available in multiple formats.
DVDs
VHS
Video Disc
Blu-rays
CDs
8-Tracks
Reel to Reel
Cassettes
We Also Buy Anything Strange
Yes the stranger the better. If in your attic you came across Crystal balls, Tarot cards, Ouija Board, or anything that looks like it belongs in a horror movie or something for Halloween turn those items in Cash.
We Buy All Thing Game and Gaming