Today we will touch on the wonderful and timeless career of Bobbie Gentry. Here at Kilroy Was Here, you will be able to to find vinyl records of this awe inspiring female singer.
Bobbie Gentry is certainly first female artists to start writing her song lyrics. Her music is still fresh and appealing and relevant. "Ode to Billie Joe" was the first smash hit that brought Bobbie Gentry to the spotlight and musical stardom. In the eyes of fans the image remained of the enigmatic beauty with upbeat attitude, this might be reason that her music remained very glamorous and distinctive.
Early Life
Bobbie Gentry was born on 27th July 1944, in Chickasaw County MS. Her family was very traditional with Portuguese decent. She was raised mostly by loving grand parents after her parents separated. Initially, it was her grandmother who encouraged the young Bobbie Gentry for music. The grandmother bartered her cow for piano. The early life in farm and experiences brought her near to the rustic folk roots of country music. The popular hit song "My Dog Sergeant is a Good Dog," is said to be the first song that she wrote in this period.
Starting Music
Bobbie Gentry was thirteen when her mother took her to the lively musical town of Arcadia, California. Music enabled her to make new friends in strange city. Encouraged by the appreciation of her friends and teachers she started to write and experiment it with her music. Luckily there were many country music clubs in area and Bobbie Gentry was soon getting offers to perform. The Gentry surname was adopted by her in 1952, after then famous star Ruby Gentry.
Struggling and Learning
The music didn't disturb her schooling. Bobbie Gentry continued her education and completed the graduation from high school. Now she was seriously thinking about music. She moved to Las Vegas to pursue a career in music. Bobbie Gentry found work in the Follies Bergerac Club. For a while she did the stage acts and performing, but soon she missed the school and friends back home. She moved back to California after a few months made her reorganize about future. Bobbie Gentry enrolled for studying Philosophy in U.C.L.A. But her passion for music was too strong, so she moved again to study music at the famous Los Angeles Conservatory of Music.
"Ode to Love" and "Stranger in the Mirror"
These are the first two songs that were recorded by her for release as debut. Jody Reynolds who was quite famous at that time did these duets with Gentry. The songs did not caught the fancy of public may be because they were not released properly. This resulted in Gentry to keep on performing other popular music in the clubs.
"Ode to Billie Joe"
In 1967, "Ode to Billie Joe" was the most memorable and successful smash hit song of Bobbie Gentry. It was released by Capital Records. It was just a coincident that her demo was heard by the Kelly Gordon a producer at the Capital Records. She was approached, and the result was her first hit. Single was named "Mississippi Delta" as luck would have it, "Ode to Billie Joe" was on the side b, but the haunting story telling and enigmatic voice just struck the chord. Fortunately, this became such a popular song and was played every where. In August 1967, it went on to be on number one on pop charts with remarkable sale of more than three millions.
Get Your Vinyl Record Copy today Here in the store or you can order it online.
Multiple Grammy Awards
Bobbie Gentry won multiple Grammy Awards for her Award winning single "I Saw an Angle Die". These multiple Grammy Awards included "Best New Artist" and "Best Female Vocal". Music fans and critics loved the enigmatic music but the charts did not work for this album. However, Academy of Country Music encouraged Bobbie Gentry and awarded her "Best new Female Vocal".
String of Hits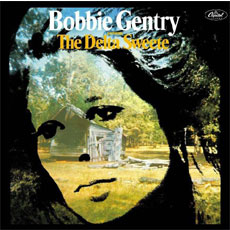 "The Delta Sweetie" was her second album released in 1968 and it became another chart-buster. No one knew this kind of music as it was mixture of unexplored sights, values and voices of south. It was more soulful, more serious and somewhat different. It was a time when typical country music was played. Success of this album gave Bobbie Gentry a unique position and status. But her dedication and passion for music kept her striving for excellence and delivering hit after hit. She was writing her own music lyrics and performing mostly in her own distinct style. During this period she collaborated with Glen Campbell. The next two Hits were, "All I Really Want to Do", and "Let it Be Me".
"The Delta Sweetie" vinyl album is my personal favorite. We only have a limited number of these in the store or order your copy online while supplies last.
Later Music
The next few hits came soon as a result of creative music including "Touch them With Love", and "I will Never Fall in Love Again". She started to explore R&B roots. These singles gave her immense popularity in Europe in UK she was the number one singer in 1970. She even had her own show on BBC television from 1968-71.
Performing at Vegas
During 1970's Bobbie Gentry remained the number one performer in the music circuit. She was performing at Vegas and Nashville. She was among first few singers who began working on elaborate acts of costumes and choreography. She wrote and produced some of legendary performances that happened in these cities.
"Fancy"
Bobbie had another huge vinyl hit single in 1969 with a song she wrote called "Fancy" (this also become a hit in 1990 for Reba McEntire). 
 "Patchwork"
Patchwork is her last vinyl album with Capital Records. Bobbie Gentry started to work more in other areas. She had her own show with CBS. The adoption of "Ode to Billie Joe" was also a result of her efforts. She married twice but this enigmatic soul did not found her true companion for life. She worked for music and performed for fans during her later years. In 1980 she retired from music and made Los Angeles her home.
After retirement Bobbie Gentry has not been forgotten.  "Ode To Billie Joe," was inducted into the Grammy Hall of Fame in 1999.  On July 17, 2021 her lost Vinyl Jazz Album was released called "Windows of the World" with a limited quantity of 2,500. Nov. 1, 2021 at the Music City Center in Nashville Bobbie was inducted to the Nashville Songwriters Hall of Fame.
Looking forward to seeing you all stop by at Kilroy Was Here Shenandoah, Iowa. The place where if we don't have it we'll help you find it.
ML Lamp is the owner of Kilroy Was Here. After his 20 years of working in Las Vegas in the entertainment promotions field, Mr. Lamp retired in 2002 from his job to pursue his passion for collectibles. Now as a guest speaker and author he's living the dream, and sharing his warmth with You.